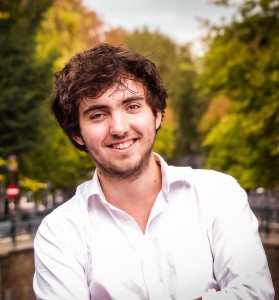 About you
Let me start off by talking about you: the listener. Why? Because I think music is not about a composer who throws his notes from his ivory tower. Music is about connecting people on a deeper level. We can be struck by a beautiful melody, chord progression, texture or even a concept or story. Music can stir our emotions, help us deal with things from the past, give rest, comfort, or it lets us forget everything around us and just makes us sit back and enjoy.
I value this sense of enjoyment to be found in music. Classical music, in my opinion, has been way too intellectual and has distanced itself from its audience for way too long. This has caused a certain prejudice towards contemporary classical music among a lot of people, who think that modern music is basically, as we say in Dutch, "piep-krak-knor muziek"; music that doesn't resemble music anymore. However, there is still a lot to be discovered by these people. Nowadays, there is so much beautiful music written, and on such a diverse level that anyone can find his or her way in contemporary music.
In my own work, I try to give the listener music to enjoy, but also music that is contemporary. The thing that matters most for me is to make my pieces very personal in its aesthetics and story. By doing so, I try to bring it to a human level on which the audience can relate to it. This is an on-going process. I still have a long way to go, but the first steps have been made.

About me
Hi there! My name is Tom and I like to compose music, I like it a lot actually. My musical endeavors started when I taught myself how to play my first instruments: piano, drums and percussion. At first, my main focus was on pop/rock music, but this completely changed when I heard Igor Stravinsky's ballet "The Firebird". Overwhelmed by the beauty of the piece, I started to emerge myself more in classical music. However, stubborn as I was, I preferred improvising and thinking of my own stuff on the piano rather than studying someone else's pieces.
In the following years, I started composing more and more. When I was 16, I knew for sure I wanted to study composition. After a preliminary year at the Royal Conservatory in the Hague, I started my Bachelor studies at the Conservatory of Amsterdam. In the Hague, my main teacher was Calliope Tsoupaki, and currently in Amsterdam they are Willem Jeths and Wim Henderickx. During my Bachelor studies, I have received masterclasses from Tan Dun, Fabio Nieder and Fons Merkies.
A major boost in my composition career has been the contest of the Dutch Wind Ensemble named "Op weg naar het nieuwjaarsconcert" (The road to the New year's concert). I was lucky enough to participate four times, performing with them in the Concertgebouw in Amsterdam on the 1st of January 2013 with my piece "Love's Variety". They give young composers, 18 or younger, the chance to have their music performed by top-notch musicians. These same musicians give the composers feedback along the way. A big shout out and many thanks for them, giving me and many other young composers the first step to pursue their compositional dreams.
Back to my music; I've written pieces for ensembles varying in size, from solo flute pieces to large orchestral works and from A Capella choral to percussion ensemble. I've been lucky enough to have many of these works performed in different venues, such as Felix Meritis Amsterdam, theatre Junushoff Wageningen, the Conservatory of Amsterdam and the aforementioned mentioned Concertgebouw Amsterdam.
I see arranging as a very important part of my activities. It does not only provide a deeper insight in pieces you might now, but it also broadens your instrumentation skills for your own compositions and it gives a deeper understanding of the workings of the orchestra. And let's be honest, it is a valuable source of income in these hard times in the music industry.
I've arranged several pieces now, the pinnacle being my arrangement of John Powell's film score for "How to train your Dragon" (closing in on 60.000 YouTube views!). Unfortunately, this arrangement has been denied for further publishing, but who knows what might come in the future!
Last, but certainly not least, I devote quite some time in writing music for films and working on standalone virtual orchestrations. After many years of developing my skills in this field, I currently arrived at a fairly high level. You don't have to take my word for it, decide for yourself by listening to my work over at the "Media" page.
To close it off, just let me give you a last couple of facts:
– I'm a proud Christian. I've been contemplating a lot lately in how to express this in my music. My choral works are the first results of this.
– I've been lucky enough to win quite some awards, namely:
o Op weg naar het nieuwjaarsconcert 2013 (Love's Variety, 2012)
o Young talent prize (I live, 2009, Love's variety, 2012)
o Ricciotti's Grote arrangeerwedstrijd, third prize (Mekhuteneste Mayne, 2013)
o Slide factory composition contest, Jury & audience prize (Dystopia, 2013)
o TROMP Percussion composition competition (Claustrophobia, 2013)
– I did a TEDTalk in 2012 about my flute solo piece "CVA" and how I used this piece to deal with the stroke my mother had suffered.
– I'm a die-hard Finale 2012 and Cubase 7 user. People have attempted to persuade me to use Sibelius, Logic or Ableton etc. but this hasn't worked so far. Probably won't in the future as well.
– My very first pieces were rock songs, in which I didn't know the difference between tenor and bass clef. Or a perfect or a diminished fifth.
– My many years of playing piano in a very "pop" way (jamming on chords written above the text, while adding a lot of notes) have heavily influenced my work. Harmony is very often the first starting point when writing a new piece, and my piano parts are very chord-based.
– The previous is due to my lack of fine motor skills as well. When I write a piano part which I know I have to play it myself, I make it very percussive. Studying Bach fugues and inventions are not my cup of tea.